MEET OUR TEAM!
Corey DeVries - President
Corey started Cornerstone in 2009, which has quickly grown into Cornerstone Real Estate Management, Cornerstone Association Management, and Cornerstone Building and Maintenance.  Prior to starting Cornerstone, Corey worked on the family farm raising cows and pigs and working for his father in his construction business, DeVries Builders.  While working for DeVries Builders, Corey started building and developing his own income properties, creating his passion for Real Estate.  After working over 20 years building custom homes and remodeling for DeVries Builders, Corey had the desire to start his own company.  Cornerstone was started in the basement of his home with around 30 units to manage.  He has been blessed with growth and now Cornerstone manages around 3,500 units throughout West Michigan.  Corey is a graduate of Holland Christian High School and has both a Builder and Broker license.  When not working, Corey enjoys traveling with his wife Heather and his 3 daughters(Brooke, Kenzie, and Ashey), one of their favorite locations is in the Grand Tetons around Jackson, Wyoming.  Corey is an avid hunter and spends most of his fall bow hunting deer in Missouri and elk in Colorado, but nothing beats hunting with his daughters. His other interests include softball, fishing, hiking, camping, and watching sports.
Tim Lohr - Business Manager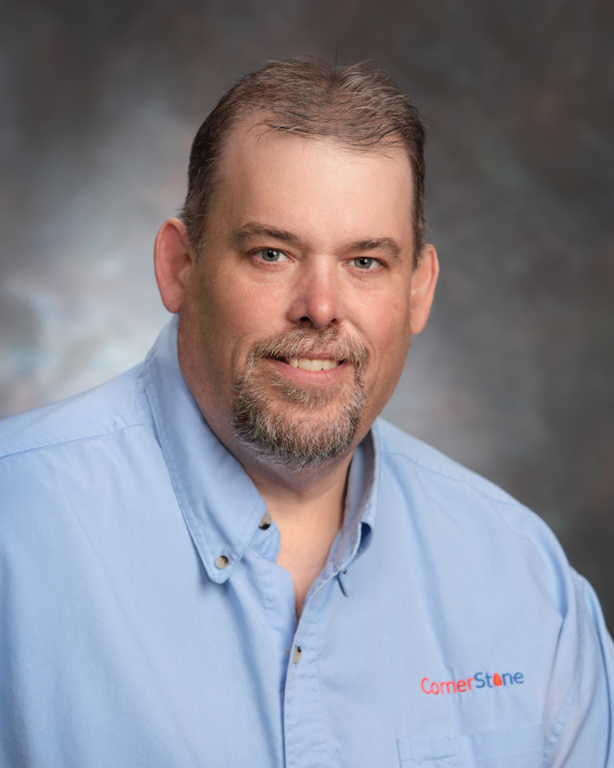 Tim joined Cornerstone in August of 2014 taking on the role of Service Coordinator in the Building and Maintenance Company and most recently the role of Business Manager, overseeing all three companies.  Tim is a graduate of Grand Valley State University with a degree in Broadcasting/Communications and has held roles in inside sales, purchasing, scheduling, and business management in the past.  When not at the office, Tim enjoys spending time with family, traveling to amusement parks with his wife and two coaster enthusiast sons, and following Michigan football.  
Reillie Phelps - Executive Assistant
BUILDING AND MAINTENANCE COMPANY
Jason DeBoer - Service Technician
Here is Jason, also known as Jay. Before Cornerstone, he worked with Padnos for over 20 years and has great experience! When he is not on the job, he likes to do anything outdoors with this wife and three kids. This includes hunting, fishing, and smoking meat!
Jose Maldonado - Service Technician
Sam Runhaar - Service Technician
REAL ESTATE MANAGEMENT COMPANY
Courtney Estad - Leasing Manager
Courtney is a licensed Real Estate Salesperson and she joined our team in November of 2019.  Courtney moved to Michigan from North Dakota in 2019 where she was a leasing agent for 2 years.  She enjoys spending time with her dog and hunting.
Skye Dearen - Leasing Agent
Doug Broekhuizen - Leasing Agent
CONDO ASSOCIATION COMPANY
Marci Stevens - Association Manager
Marci joined the Cornerstone team in August of 2018 as a Condo Association Manager.  She has 6 years' experience in property management.  Marci has her Associates' Degree in Business Management from Davenport University.  Marci's life outside of work revolves around her 3 sons and their many sporting activities.  She also enjoys reading and camping with her family. 
Keith Oosting - Association Manager
Keith joined the team in August of 2020 as a full-time condo manager. As a West Michigan native, he also comes from a background in manufacturing management. When Keith is not at the office, he enjoys golfing, traveling, and fantasy football!
Carolyn Hill - Association Manager